30 Oct

There's Still Good Things Happening All Around Us!
Pandemic leads to new friendship between UPS driver, 4-year-old boy.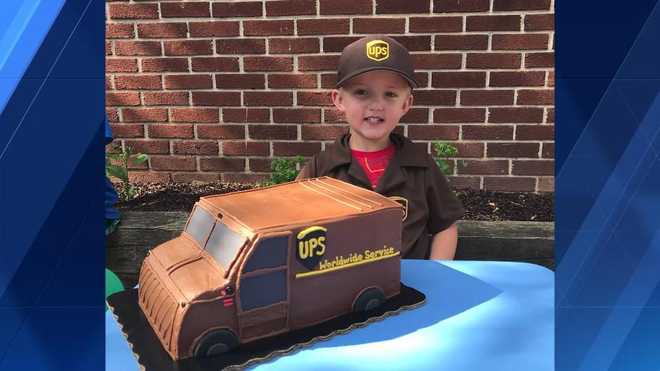 The coronavirus pandemic has created an opportunity for many to notice more about the world around them. For one 4-year-old boy, what he saw every day has led to an unexpected and special friendship.
"Harry's always loved the UPS trucks. I don't know, he's just fascinated by them," said mom Sara Eberle.
Harry wears a UPS uniform every day so that he could be just like his friend, Kevin Brightful, who he call his buddy.
The Eberle family moved to Frederick, Maryland, in March, and during quarantine, Harry would watch the UPS truck drive by every night with Brightful behind the wheel.
"So we will be outside and Harry, we get up on the little hill that we have, and he'll wave, and Kevin was nice enough to honk and always wave back, always, and then Harry decided he wanted to be Kevin," Eberle said.
So they got Harry his own uniform and a hand truck, and his dad made him a UPS truck out of a Hot Wheels car for deliveries.
"I was like, wow, that's pretty neat, you know? It was real neat," Brightful said. "I was quite surprised, at first, because I had seen him before standing on the hill waving, and then I show up on a Friday, and I see him with the car, and I yelled to his mom and dad and I said, 'Let's get a photo on Monday,'" Brightful said.
Since then, the two have really developed a special bond. Brightful even arranged a drive-by UPS parade for Harry on his fourth birthday in June.
"They agreed to it right away. They had no problem. They were like, 'Yeah, we'll make this happen for him,'" Brightful said.
Eberle says because of Brightful, Harry has more confidence, and it has been fun for the whole family.
Brightful has been a UPS driver for 21 years and says nothing like this has ever happened.
"Not at all. I mean, you get some nice people on the route, people speak to you and they wave and just do some things, but nothing like this. This is so special. Only Harry, you know?" Brightful said.
"It has shown him what kindness is. Kevin doesn't have to stop. He doesn't have to wait, but he does it every night. He's on a schedule, but it doesn't matter. He always stops. He always has a conversation," Eberle said.
"It just warms your heart. It's mutually beneficial for Harry and myself," Brightful said. "Any time we can bring a smile to a young fella's or a young person's face or lift them up and make their day, that's all we can look forward to. If we can lift someone up, it's an awesome feeling."